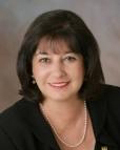 Angela Albright
Axiom Bank, N.A.
SVP, Human Resources
Biography
Angela Albright is the SVP, Human Resources with Axiom Bank, N.A.. Angela has over 25 years of experience in all areas of Human Resources including planning, leadership development, employee relations, compliance, diversity, compensation, performance management, merger integration, benefits and recruitment in the financial services industry.
Angela earned a bachelor's degree in Business Administration from Barry University.