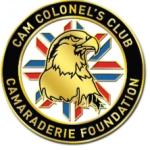 Introducing a special giving program, the "CAM Colonels Club," named in honor of one of our earliest and most ardent supporters, COL Lee R. Barnes, Jr. (USA, ret.) He was committed to the long-term success of Camaraderie Foundation and worked tirelessly to create an organization that would serve our military and their families for generations. As such, this giving society is designed to be a true community of thoughtful donors that contribute regularly every month or quarter ensuring the sustainability of the organization.
Each participant will receive a certificate and lapel pin as an appreciation of your commitment and dedication to our nation's veterans, services members and their families.
We could not do our work without partners like you. Please consider joining us in our continued dedication to Saving Lives – Saving Families.
Become a CAM Colonel now by clicking the "BECOME A CAM COLONEL" button and selecting the tab that says "Recurring donation – CAM Colonel's Club." You can select any amount for your monthly donation from $5 to $100. Thank you.