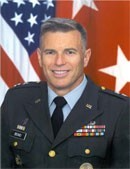 Bill L. Bond
Major General, U.S. Army (Ret)
Biograpy
Major General William (Bill) L. Bond was born on 2 December 1947 in Roseburg, Oregon. He graduated from Oregon State University with a Bachelor of Science degree in Business Administration and received a Regular Army Commission through the Reserve Officers Training Corps as a second lieutenant in 1970. He was commissioned as an Air Defense Officer. He later received his Masters of Science Degree in Acquisition and Contract Management from Florida Institute of Technology. Selected key assignments are listed below:
Commander, 2d Battalion, 61st Air Defense Artillery, Eighth United States Army
Product Manager, Fire Support Command Control Systems, Multiple Launch Rocket System, Program Executive Office Fire Support
Commander, Defense Plant Representative Office, Bell Helicopter Textron
Deputy Program Executive Officer, Program Executive Office, Field Artillery Systems
Special Assistant for Acquisition Reform, Office of the Secretary of Defense (Acquisition and
Technology
Director, Army Digitization Office, Office of the Chief of Staff, Army
Commanding General, Simulations, Training and Instrumentation Command
Director, Force Development, Office of the G-8, United States Army
Deputy for Systems Management and Horizontal Technology Integration, Office of the Assistant Secretary of the Army (Acquisition, Logistics and Technology)
Among the military schools he attended are the Air Defense Basic Advance Course, the Safeguard Staff Officers Course, United States Army Command and General Staff College, and the Industrial College of the Armed Forces. Major General Bond's awards include:
Distinguished Service Medal (with Oak Leaf Cluster)
Defense Superior Service Medal
Legion of Merit (with 2 Oak Leaf Clusters)
Defense Meritorious Service Medal
Meritorious Service Medal (with 3 Oak Leaf Clusters)
Army Commendation Medal (with 2 Oak Leaf Clusters)
Parachutist Badge
Ranger Tab
Office of the Secretary of Defense Identification Badge
Army Staff Identification Badge
Following retirement in November 2003 after 33 years of active service, Major General Bond joined Cypress International in Alexandria Virginia as Vice President until his retirement in December 2009. He is married to the former Mary B. Brown and they have six children and four Grandchildren.