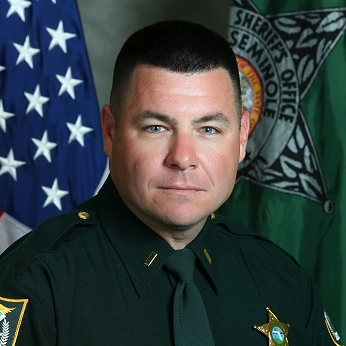 Bobby Smith
Representative for Seminole County Sheriff
Bobby is a Lieutenant with the Seminole County Sheriff's Office previously serving a Patrol Sergeant, Watch Commander, Civil Section Commander and is currently assigned as the East Region Commander at the Seminole County Sheriff's Office. The region provides law enforcement, traffic safety, code enforcement and investigative services to the unincorporated communities of Oviedo, Geneva, Chuluota, Casselberry, Winter Park and Winter Springs in Seminole County. Bobby was introduced to law enforcement through the Explorer Program in 1996 and serves as an Advisor. He is a United States Marine Corps Veteran and joined the Seminole County Sheriff's Office in 2006 as a Deputy Sheriff.
Bobby earned a Bachelor's degree in Law Enforcement Administration and a Master's degree in Organization Management with a specialization in Human Resource Management.
Bobby is married to his wife Molly who is also a Deputy at the Seminole County Sheriff's Office. They reside in the community of Geneva in Seminole County with their three dogs. Bobby is an avid outdoors enthusiast, kayaker, runner and enjoys motorcycle riding.