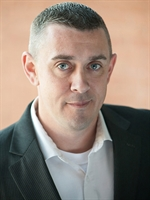 Jeremiah Fuller
Chairman
Client Executive
Hylant
Industry Experience
With seven years' experience in the insurance industry, Jeremiah is a valued member of
Hylant's Employee Benefits Practice. He guides clients through the research and
implementation of fully insured and self-funded benefit plans, wellness and disease
management programs, consumer-driven benefits, and compliance. In his role as a client
executive, he manages contract negotiations, assists employers in claims and compliance
resolution, and provides counseling to employers in all aspects of employee benefits.

Jeremiah's former role as a small business sales consultant with Paychex afforded
him a rich understanding of HR, payroll and benefits solutions. Through his years in
this position he also learned the varying nuances of client needs and how to deliver
exceptional service, as evidenced by his numerous awards received for excellence
in customer service, sales and in his role as a branch manager.
Jeremiah gained valuable leadership experience as a Squad Leader during his
eight-year stint serving our country in the United States Army Reserve.
Industry Associations
Jeremiah is active in a number of professional associations throughout Central Florida
including the Association of the United States ARMY, Army Aviation Association of America,
Central Florida Navy League, the Central Florida Marine Corps Foundation and Rotary
International.
Education and Accreditation's
Jeremiah received his bachelor's degree in Management from the University of Central
Florida.
He is a licensed Health and Life Agent
Professional Specialties
• Employee Benefits
• Modeling and Simulation
• PEO Extraction
• Department of Defense Contractors